An Exercise Book From Me? Well, Sort of… My Experience with an Whole Body Vibration Machine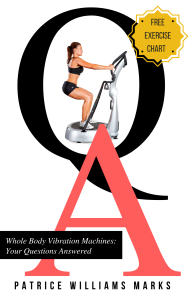 Whole Body Vibration Machines; Your Questions Answered.
I've been using a Whole Body Vibration machine for about nine months. Every time I mention it to a friend or acquaintance, they ask, "What is it?" The next question is, "Will it help me lose weight?"
I've decided to put together a quick question and answer book on the machine and what it does and doesn't do. There are scarcely few books out there on the subject, but none that answer all the burning questions from someone who is not an athlete, (or even in the best of shape).
And as a BONUS, I have included a Free Exercise Chart! (Go on Amazon, and you will find exercise charts for $20). I've included a full-color chart that is available for download for free.
Coming in January!
Want to be notified when it is released? Simply go to my AMAZON AUTHOR PAGE and click the FOLLOW button under my photo, to the left of the page.